Wuffle Comic
Wuffle is different from other wolves. While most wolves are sneaky and tricky, Wuffle is innocent, naive, and kind-hearted, always willing to help people without expecting anything in return.
Wuffle was actually one of several projects that started back in the year 2008. At that time, he was designed to be the main character of a game with the same name.
The game is a parody of many famous fairy tales featuring "big bad" wolves, such as "Three Little Pigs" and "Little Red Riding Hood."
It was supposed to be a platformer game about Wuffle fighting the three evil pigs, stopping them from destroying his land and turning the forest into a bunch of big factories.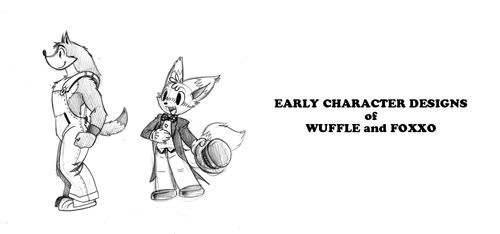 Unfortunately, we never actually had time to work on the project, and it eventually got cancelled.
However, I was really in love with Wuffle's design. I wanted to see him come to life in some form. If he can't be in a game, I thought, then he can be in something else. And that's when I started working on the Wuffle comics project.
Finally, after 4 years, I think I have found the perfect story for him. I just want to see him come to life, living his little adventures with his friends. And here it is, right before your eyes, the comic as you see it today.
I want Wuffle to be a comic for everyone, for people of all ages. I want to bring back the charm of the good old classic cartoons that we saw when we were young.
I hope you enjoy the comic, and will come to love Wuffle as much as I have.
Welcome to the world of Wuffle, the big nice wolf!
Hi, I am Piti Yindee. I'm a freelance artist who does graphic design, character design, and character animation for an indie game studio.
Wuffle is my personal project, a labor of love. Wuffle is a feel-good comic series that will make you laugh out loud, brighten up your day, and make you smile.
I've planned to make this comic and all the content here to be free for EVERYONE, so if you like it please feel free to re-post, like, share or use it for whatever you want! Also feel free to give me credit if you feel the need to. Sharing the love of Wuffle makes me happy already.
One thing I would ask you not to do is lie and say that you created Wuffle, lying is never good and if you do lie you will get caught sooner or later! But you're free to share Wuffle comics with your friends, and even make your own Wuffle comics, art, and stories. Wuffle comics have no copyright due to my use of the CC0 Waiver, meaning that Wuffle is like the classic fairy tales in the public domain. Anyone is free to make their own version without asking for permission from me or anyone else! Get creative and let your imagination run wild!
Enjoy the series everyone!
-Piti Yindee
Creator of "Wuffle"
:::::::::::::::::::::::::::::::::::::::::::::::::::::
Wuffle Comics Staff :
Story by Guts, Leonard Kirke
Illustrated by Piti Yindee
Proofreading by Leonard Kirke